HOW INDUCTION MELTING FURNACE WORK
2004-6-4 From: Local Views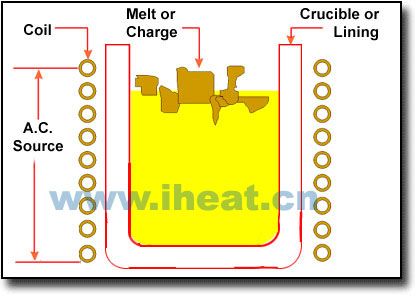 The coreless induction furnace is composed of a refractory container, capable of holding the molten bath, which is surrounded by a water cooled helical coil connected to a source of alternating current. Figure shown is a simplified cross section of a coreless induction furnace.
The principle of operation of the induction furnace is the phenomena of electro-
magnetic induction.
The induction (generation) of the electrical current in a conductive metal (charge) placed within a coil of conductor carrying electrical current is known as electromagnetic induction of secondary current.
The alternating current applied to the coil produces a varying magnetic field which is concentrated within the helical coil. This magnetic field passing through the charge induces secondary current in the charge piece. The current circulating in the charge produces electrical (I2R) losses which heat the charge and eventually melt it.